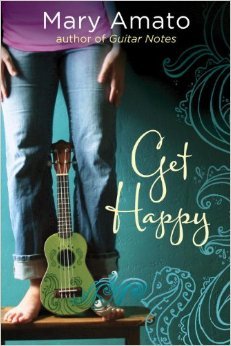 Get Happy
by Mary Amato
Blurb:
In this poignant, realistic, contemporary YA by a state master list star, perfect for fans of Sarah Dessen and Gayle Forman, a young songwriter builds a substitute family with her friends in place of the broken family she grew up with.

A hip high school girl who loves music, writes songs, and is desperate for a ukelele, learns to her shock that her father did not abandon her years ago and has been trying to keep in touch. She begins to investigate him, only to discover that he has a new life with a new family, including the perfect stepdaughter, a girl who Minerva despises.
Genres: Young Adult, Realistic Fiction, Romance
Publication Date: October 28, 2014
Pages: 256
Series: N/A
My Rating: 5 Huge Sparkly Stars!
I received a free copy of this book in exchange for an honest review.

Wow. Can I just say, this book should be called, "Get Readers Happy, Make Readers Cry, Then Get Them Insanely Happy Again"? Because that's what this book did to me. I'm being dead serious.

Seriously, I loved everything about this book. Characters, the plot, the humor...I reread it just yesterday, so I could give it the proper review that it so deserves, and it was just as good.

The characters are really the absolute best thing about this book. I just love them so much! Minerva, aka Min, is funny and sarcastic. She is a musician; I don't even like instruments that much but I loved how Mary Amato portrayed Min's yearning to get a uke. I want to play a ukelele after reading this, honestly, and that says a lot because I am absolutely horrible at playing instruments. Min is not always a 'likeable' character; she does some rather mean things in the book. But she is always a realistic character. I could understand her jealousy for Cassie; (I absolutely hated that girl, she was so perfect I couldn't stand it) I felt her anger for her absentee-dad. Minerva is, in short, the kind of character I wish more books had.

Fin! I usually don't care too much for the 'sidekicks' in books. But oh, how I loved Fin. He was absolutely amazing. I wish he was a real person so that I could be friends with him. He may have been my favorite character; I liked them all, but Fin made me crack up and smile so much.

Hayes, the love interest, is...well, he's not just a stereotypical love interest, and I loved that. The author actually takes time to develop him as a person and doesn't just make him a human Ken doll. Once again, this book has inspired me; I want to make a list of things that I have to do before my birthday.

The story is so good; all aspects of it. Yes, there have been books about kids dealing with absent parents before; but this one is by far the best that I personally have read. Minerva's emotions practically jumped off the page at me. Though I personally haven't dealt with this, the book made me feel like I had.

Min's jobs at Get Happy were so good too. They were really well written; my personal favorite scene was Lindsay's birthday party. I was so happy that I started tearing up the first time I read it.

But the greatest part of this book comes near the end. It was a part that made me tear up with anger and sadness. It played with my emotions so much. The second greatest part of the book? The very last scene. The last fifty-ish pages of this book were six star territory, I swear.

I like that not everything got resolved with a neat little bow. It felt more true to life that way.

This book is definitely one of my favorites. Realistic Fiction isn't even one of my favorite genres, but yet this book was one of the best things I've read all year. So yeah, I'd recommend it.