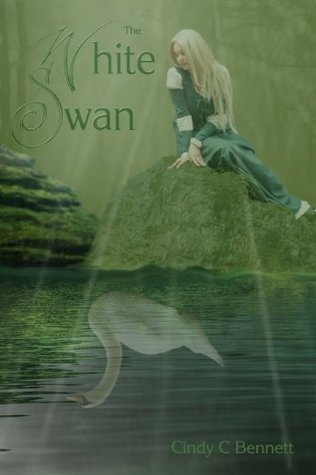 The White Swan
By Cindy C. Bennett
Blurb:
Benno von Rothbart, a powereful sorcerer, has transformed Odette, his childhood friend, into a swan, jealous of her love for Victor.

Odette and Victor have loved one another their whole lives.

Victor and Odette are unaware of Benno's powers and manipulations to come between them and win Odette for himself. When Benno uses his powers to transform Odette, she finds herself in a fight for her freedom and for Victor.

The White Swan is a retelling of the classic Swan Lake fairytale.
Genres: Young Adult, Retellings, Romance, Fantasy
Publication Date: March 5, 2013
Pages: 81
Series: Enchanted Fairytales (book 5)
My Rating: 3 stars
So, I finally say goodbye to the enchanted fairytales series. This one was pretty good, and I hadn't read a retelling of the Swan Princess before (or seen the ballet...or actually remember that Barbie movie that they made a couple years ago..y'know, basically this was a new story for me.) so I can't really compare this to any other book I've read before.

It was an interesting story, for sure. I was a bit confused as to when this was taking place though, because while pretty much all the Enchanted Fairytales series takes place in modern times, this one seemed a little more...old. Like the names for example, and the fact that Victor was a 'sorceror. So maybe like a fairy tale world?

I felt bad for Odile, because the guy she loved was in love with her sister. I liked her because even so, she still loved her sister and tried to help her escape from Victor.

I also really liked (as always) Cindy Bennett's little note at the end of the story. It explained why she chose this story to tell, some of the development of the story, etc. I kind of wish more authors would do this, because it's really interesting to read about.

Another nice story from the Enchanted Fairy tales series. I would recommend it to people who like retellings.