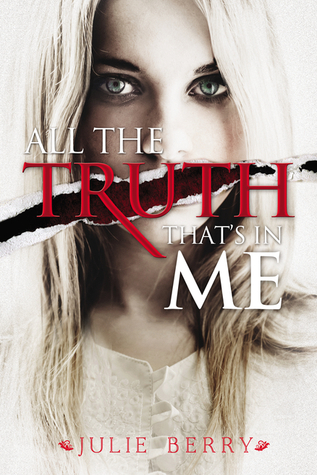 All The Truth That's In Me
By Julie Berry
Blurb:
Four years ago, Judith and her best friend disappeared from their small town of Roswell Station. Two years ago, only Judith returned, permanently mutilated, reviled and ignored by those who were once her friends and family. Unable to speak, Judith lives like a ghost in her own home, silently pouring out her thoughts to the boy who's owned her heart as long as she can remember—even if he doesn't know it—her childhood friend, Lucas. But when Roswell Station is attacked, long-buried secrets come to light, and Judith is forced to choose: continue to live in silence, or recover her voice, even if it means changing her world, and the lives around her, forever. This startlingly original novel will shock and disturb you; it will fill you with Judith's passion and longing; and its mysteries will keep you feverishly turning the pages until the very last.
Genres: Young Adult, Historical Fiction, Mystery, Romance, Realistic Fiction
Publication Date: September 26, 2013
Pages: 274
Series: N/A
My Rating: 5 stars
All the Truth That's in Me is one of the few books where I went in completely blind as to what it was about. All I knew was that at one point I had read the blurb and thought it sounded good. So, though at this point I had forgotten what that blurb had said, I started to read. I guessed from the cover and title that this would be a modern day thriller or something like that.

Well, if you've read this book, you'll know I was pretty wrong. First off being that this is historical fiction. I adore historical fiction, and All the Truth That's in Me really solidified my love for HS by reminding me what makes me so loyal to this genre.

This book starts off with the reader very in the dark as to what has happened to Judith. Not having read the blurb, every revelation that the book gave as to what happened made me want to gasp. Not until the very, very end is the complete story revealed. Even when I thought I knew what had happened, my inferences were wrong. The author gave me a sliver of Judith's ordeal, and then another, and it wasn't until the end that all those little slivers came together.

The second person made the narrative of this story oh-so-much-better than anything I'd read before. I like 'unusual' narratives, and I had almost begun to think that second person narratives didn't exist and were a myth perpetuated by English teachers. It made Judith's love for Lucas more depressingly believable--instead of the sugary, too-sweet, "he's really hot and I love him" insta-love that is so many of the teen books I read, I got an unrequited, hopeless and dreary sort of love. It broke my heart, just like the rest of this book.

The characters in All the Truth That's in Me were exquisite. They were complex, non-formulaic, and well-written. Judith was a character I won't forget soon; I really don't have the words to describe her. I just wanted her to have a happy ending. Lucas made me mad at times, because I just wanted him to treat Judith like he used to--but in time, I liked him a lot. He changed for the better. Maria was a character that I was not expecting to like at all. I thought I would be hating on her the whole book for 'stealing' Lucas; but that isn't how it turned out, and I ended up thinking over as a very sweet friend who I adored. She was probably one of the nicest people in the whole town.

The plot, too, is amazing. There's never a moment that I wanted to stop reading. I was always in suspense; I always wanted to know more about what happened to Judith; from the very beginning I was hooked. There were always mysteries and questions that needed to be answered.

But what really pulled the book into five star territory was the emotional impact it had on me. My throat was perpetually achy; I had misty eyes. I couldn't help but feel sad, or angry, or a combination of both, for Judith. My emotions went a bit haywire while reading her story.

Five stars for this book. I want to give it as many stars as I possibly can, because it played with my emotions; got me immediately hooked; proved, yet again, that historical fiction is not boring; made great use of the second person narrative; and so, so much more.