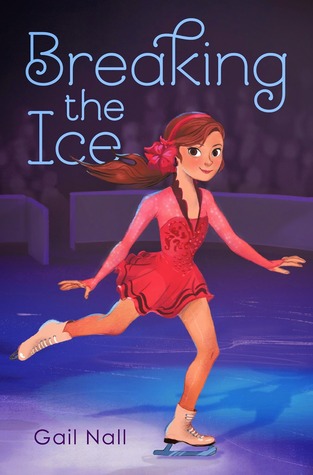 Breaking the Ice
By Gail Nall
Blurb:
Kaitlin has always dreamed of being a champion figure skater, and she's given up a lot to pursue her passion. But after having a totally uncharacteristic and decidedly NOT figure-skating-approved tantrum after getting her scores at a major competition she's dropped by her coach and prestigious skating club.

When no other club in town will have her, she's forced to join the ridiculed and rundown Fallton Club, jokingly referred to as the Fall Down Club. At first Kaitlin thinks this is a complete disaster, but after meeting some of the other skaters, including a boy (who happens to have the most perfect hair she's ever seen) Kaitlin thinks it might actually not be so bad.

But when she's tasked with learning a whole new program right before Regionals and figures out that almost all the other skaters target Fallton, she thinks joining the Fall Down Club may just be the second biggest mistake she's ever made.

In this figure skating themed debut, Kaitlin learns that when you fall down, you have to pick yourself up – even if it's in front of judges and a crowd
Genres: Middle Grade, Realistic Ficton
Publication Date: January 13, 2015
Pages: 320
Series: N/A
My Rating: 4 stars
I received a free copy of this book in exchange for an honest review.

I love books about figure skating. It's odd, considering I don't do it, and probably never will, but for some reason these books just attract me over and over again. Chances are if I read a book about figure skating, I'll love it. And that's what happened with Breaking the Ice.

I was immediately sucked in to Kaitlin's story. She's a likeable character, and realistic too. One big mistake she makes nearly ruins her, and she has to go do a club that is notorious for being the worst. Her experiences there are fun to read about, and the skaters there were really cool. I loved Miyu, she was the kind of friend that Kaitlin needed. She may have not been the most naturally gifted at skating, but I liked that she still worked hard to improve.

I was rooting for Kaitlin the whole book to overcome the odds and get to nationals. It was relatable; even though I'm not a figure skater, I think that most girls, no matter what the age, can relate to overcoming obstacles and working hard to acheive their dreams.

I did get mad when it came to Braedon. I just could not believe that Kaitlin liked him; he was obviously a horrible influence, and I can't stand characters that are total slackers. I liked that he became more bearable towards the end, though.

I liked the ending of the story. In fact, I kind of wish it had gone on a bit longer so I could see how the rest of Kaitlin's journey played out. (Sequel, please?) It made me happy and basically all that I wanted to happen happened.

This book was inspiring, believable, and most importantly, entertaining. I was sad to see it end. I could totally see this having a sequel, and in fact, I'm kind of crossing my fingers that it does! Definitely recommended.