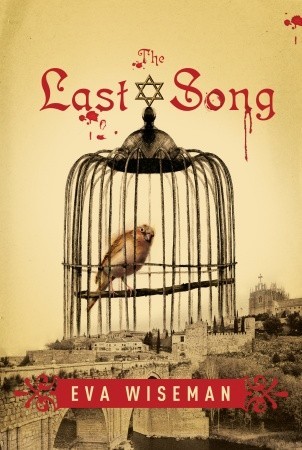 The Last Song
By Eva Wiseman
Blurb:
Spain had been one of the world's most tolerant societies for eight hundred years, but that way of life was wiped out by the Inquisition. Isabel's family feels safe from the terrors, torture, and burnings. After all, her father is a respected physician in the court of Ferdinand and Isabella. Isabel was raised as a Catholic and doesn't know that her family's Jewish roots may be a death sentence. When her father is arrested by Torquemada, the Grand Inquisitor, she makes a desperate plan to save his life – and her own.

Once again, master storyteller Eva Wiseman brings history to life in this riveting and tragic novel.
Genres: Young Adult, Romance, Historical Fiction
Publication Date: April 10, 2012
Pages: 225
Series: N/A
My Rating: 1.5 stars
I received a free copy of this book from the publisher via Edelweiss.
The Spanish Inquisition is one of those things that got skipped over in my history class. I remember hearing the name, but none of the details. That's what attracted me to
the Last Song
, basically; I
love
historical fiction, especially when it deals with historical events that don't really get a lot of attention.
The book ended up telling me some things about the Spanish Inquisition. That's basically the reason I tacked on an extra half star. I got to learn a few new things; though, quite honestly, I got the feeling while reading this that I was only getting a very general picture of the Spanish Inquisition; I am sure there are probably a lot of details that got left out. But hey, it's better than nothing!
What bugged me was the fact that these characters are soooo underdeveloped. I honestly don't have much to say about any of them this time because I feel like I didn't ever learn that much about them; none of them had a very well developed personality at all. Isabel is a blatant Mary Sue. Her character was naive--super, super naive. She seemed younger than she actually was because of it.
Then, there's Yonah, the unneeded love interest. This is one of my top 5, "bang my head against the wall I get so frustrated with them" sort of pet peeves; throwing in romance for the sake of romance will not make the story better. It will not addd anything. Yonah could have just as well been a friend; and for the amount of development that occurred in their relationship, he could have been. It was poorly written, and, as he was a pretty bland character, I quickly lost interest. And I completely checked out when Isabel declared to her father, "I don't know how I'll live without him" after only a few weeks of knowing him! How can you decide that you don't want to live without him after a few weeks?!
Plus, all the Catholic people were made out to be these awful, terrible people. Even people that Isabel considered to be very close to, like her Tia Juana, barely ever showed their nice side and were horrible for the duration of the book. I am sure that there were at least some Catholics during this period in time who weren't all for the Inquisition.
The story feels rushed. Important event moves to important event, and I had the feeling that if I blinked, I would miss something critical. The book being so short ended up not working very well; a lot of things that should have been elaborated on were not.
By the end of the book, I was forcing myself not to skim.
The Last Song
had so much potential to be great, but it definitely faltered in the execution. I am sad to say that I was not impressed.