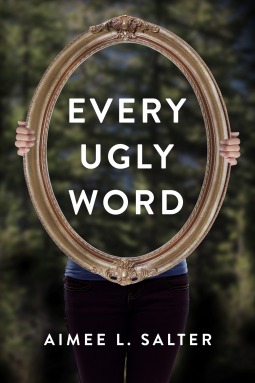 Every Ugly Word
By Aimee L. Salter
Blurb:
When seventeen-year-old Ashley Watson walks through the halls of her high school bullies taunt and shove her. She can't go a day without fighting with her mother. And no matter how hard she tries, she can't make her best friend, Matt, fall in love with her. But Ashley also has something no one else does: a literal glimpse into the future. When Ashley looks into the mirror, she can see her twenty-three-year-old self.

Her older self has been through it all already—she endured the bullying, survived the heartbreak, and heard every ugly word her classmates threw at her. But her older self is also keeping a dark secret: Something terrible is about to happen to Ashley. Something that will change her life forever. Something even her older self is powerless to stop.
Genres: Young Adult, Realistic Fiction, Fantasy, Romance
Publication Date: July 29, 2014
Series: N/A
Pages: 257
My Rating: 3.5 stars
I'll be honest; it was downright
tough
to read this book at times. The bullying Ashley goes through is hard to read about. My heart ached almost constantly for this girl.
Every Ugly Word
is one of those kinds of downright emotional reads.
Ashley, the main character, has been bullied constantly since junior high since her peers. The only person she has for a friend is Matt...and her older version of herself, who she talks to in the mirror. Ashley is one of those simply likeable characters; you can't help but like her, and feel sorry for her, and maybe even cry for her. She's a nice person but she isn't being treated like she should be, and it's scary to watch. The bullying she is subjected to is heartbreaking.
Matt was a conflicting character. At times I liked him, and at times I got very, very mad at him. I think the author did a nice job of creating a realistic teenage boy; he isn't always going to be a knight in shining armor. But overall, he still tried to be a good person.
The plotline was, for the most part, good. I liked reading about Ashley's art project, and her struggle to get through high school as she was being so mistreated. There also is a feeling of mystery, because the book starts off with Ashley talking to a psychiatrist, and the readers don't know the whole reason why for most of the story.
However, the one thing I didn't like about the book was the 'older me' plot. I felt like the book would have been a lot more meaningful without it. This wasn't something that I expected to think going into the book; in fact, Ashley's relationship with her 'Older Me' was basically the main reason I wanted to read the story. But it ended up not working for me. First off, we don't get a great explanation of how this works. It's apparently an endless loop of the older version of Ashley talking to the younger version of Ashley, but that raises questions for me that I never thought were properly answered. Plus, it ended up being distracting at times from the main plot. Overall, I just didn't love this.
The ending was great and really made me so immensely happy. Ashley really grew into a totally different character then at the start of the book, and I'll be honest; it was nice to read a story where there wasn't a huge cliffhanger that only the next book in the series could solve.
Every Ugly Word
is a brutally realistic portrayal of bullying, despite its slightly fantastical premise. It wasn't a perfect book, but the emotions it evoked from me made this a story I won't be getting out of my head for a while.