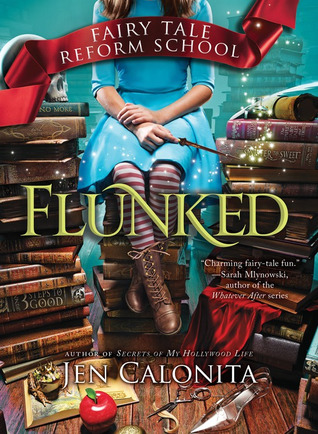 Fairy Tale Reform School: Flunked
By Jen Calonita
Blurb:
Would you send a villain to do a hero's job? An exciting new twisted fairy tale series from award-winning author Jen Calonita.

Full of regret, Cinderella's wicked stepmother, Flora, has founded the Fairy Tale Reform School with the mission of turning the wicked and criminally mischievous into upstanding members of Enchantasia.

Impish, sassy 12-year-old Gilly has a history of petty theft and she's not too sorry about it. When she lifts a hair clip, she gets tossed in reform school-for at least three months. But when she meets fellow students Jax and Kayla, she learns there's more to this school than its sweet mission. There's a battle brewing and she starts to wonder: can a villian really change?
Genres: Juvenile, Fantasy, Retellings, Adventure
Publication Date: March 3, 2015
Series: Fairy Tale Reform School (book 1)
Pages: 256
I seriously wish that this book had been around when I was a middle schooler, because I know for a fact I would have loved it; it has a similar plot to one of my childhood favorites,
The Princess School
series. Fairy Tale Reform School: Flunked was a darling little book. I loved the idea behind it, and it was honestly quite fun to read.
Gilly is the protagonist of this story; she's a little jaded when it comes to royalty, she cares a lot for her family, and she's quite good at stealing--she does it to feed her family. However, her stealing gets her into trouble and she's sent off to a reform school for 'villains'. I liked Gilly; I probably would relate to her more as a middle-schooler, but in a middle grade book, that's kind of the point. I thought she was a fun main character with her own flaws who was likeable at the same time.
I'd actually kind of like to go to this Fairy Tale Reform School, because it sounds pretty awesome. Aside from the witchy evil stepmother, all the teachers--who are reformed villains--are pretty cool. I didn't know how they would pull this off; I mean, turning the sea witch from the Little Mermaid into the fun, somewhat spacey detention teacher is rather hard to pull off. And I will say--I still don't buy some of these teachers turning from cackling antagonists into mostly-good-natured teachers. But for the most part, it worked.
The plot was cute. The problem was, it wasn't exactly unpredictable. There was semi-big reveal that I did see coming, but it was quite straightforward otherwise. Plus, the book was short (or at least it seemed short, though looking at the pages now I guess it wasn't too bad); a lot of the plot development happened a bit more rapidly than I would have liked as a result.
The little news snippets that are included were also a nice addition to
Fairy Tale Reform School: Flunked
. It really set the feel of the story, and it made it so that readers could know about the teacher's background without it feeling like a huge infodump. I actually looked forward to them.
Definitely a nice little middle grade story! I know a lot of middle schoolers who I think will like this book a lot. It was really fun to read, and I actually think I'll be keeping an eye out for more of this series because I liked it so much.