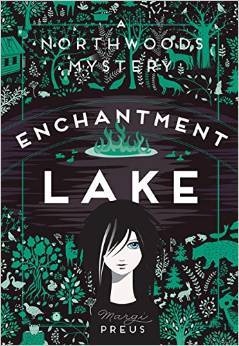 Enchantment Lake
By Margi Preus
Blurb:
A disturbing call from her great aunts Astrid and Jeannette sends seventeen-year-old Francie far from her new home in New York into a tangle of mysteries. Ditching an audition in a Manhattan theater, Francie travels to a remote lake in the northwoods where her aunts' neighbors are "dropping like flies" from strange accidents. But are they accidents?

On the shores of Enchantment Lake in the woods of northern Minnesota, something ominous is afoot, and as Francie begins to investigate, the mysteries multiply: a poisoned hot dish, a puzzling confession, eerie noises in the bog, and a legendary treasure that is said to be under enchantment—or is that under Enchantment, as in under the lake? At the center of everything is a suddenly booming business in cabin sales and a road not everyone wants built.

To a somewhat reluctant northwoods Nancy Drew, the intrigue proves irresistible, especially when it draws her closer to the mysteries at the heart of her own life: What happened to her father? Who and where is her mother? Who is she, and where does her heart lie—in the bustle of New York City or the deep woods of Minnesota? With its gripping story, romantic spirit, and a sly dash of modern-day trouble (evil realtors and other invasive species), Enchantment Lake will fascinate readers, providing precisely the charm that Margi Preus's readers have come to expect.
Genres: Young Adult, Mystery, Realistic Fiction
Publication Date: March 15, 2015
Pages: 200
Series: N/A
My Rating: 3.5 stars
First thing I thought when I saw this book; "Ooh, pretty cover!" Second thing; "Ooh, mystery!" And that was that. I went into this book knowing not much else; not about the author, or any previous reviews, or even about the specific plot. (I'd forgotten that by the time I finally picked the story up.) Thus, I was really surprised--not in a bad way, but definitely surprised--at the story that Enchantment Lake ended up being.

It's definitely NOT the serious mystery tale that I was expecting. The writing style is utterly quirky; which, as long as it doesn't got too over the top, I usually enjoy. And that was the case here. Francie's aunts were mostly what gave the book that flair; they are so ridiculous and funny in their own way that I began to wish they were my own aunts.

However, there is something sinister going on in Enchantment Lake; though the writing style does tend to make it seem lighter than it was, this book could get quite serious when it wanted to. What happened to Francie's dad all those years ago? Why is no one talking about her mom?

Francie's aunts are not the only strange ones in this weird town though. We are treated to quite the cast of characters. Seemingly, a lot of them behave irrationally and there is a bit of suspicion cast on most of them at one point or another. But in the end, everyone's motives are shown, and everything makes sense.

I did not see who the culprit was at all. Though, in hindsight, the signs were there and I probably should have realized that it was who it ended up being. Whatever, it made it more enjoyable to have not guessed. Something that really made this unveiling of the culprit unique, though, is the fact that it brings up some questions as well as answers them. Really huge questions that I want answers to.

That brings me to my complaint for this book. What ended up being my biggest frustration was that not all the questions that readers want answered end up getting answered. I will grudgingly admit that I completely see why; to get all the answers that Francie wanted (and I wanted, darn it all) would have been unrealistic...BUT I WANT ANSWERS.

Also, at times, it felt like not everything was as explained as it should have been. By the end, of course, I knew everything I had needed to know, but I feel like a lot of information could have been given a bit earlier than that, because I was a bit confused when it came to a lot of Francie's background at the beginning of the book. It wasn't stuff that necessarily needed to be revealed later; like more details of Francie's job, for example. Because I was seriously confused when all the 'detective' stuff came into the story.

I'll definitely be reading a sequel if one comes out, because I want answers to a few questions that didn't get resolved in here. Enchantment Lake wasn't what I was expecting, but I definitely liked it.