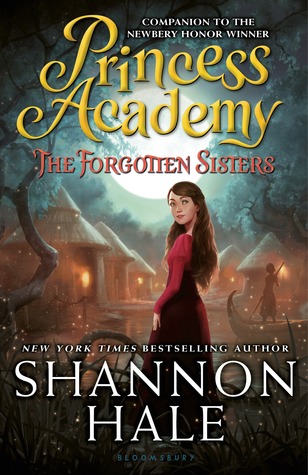 The Forgotten Sisters
By Shannon Hale
Bl
urb:

After a year at the king's palace, Miri has learned all about being a proper princess. But the tables turn when the student must become the teacher!
Instead of returning to her beloved Mount Eskel, Miri is ordered to journey to a distant swamp and start a princess academy for three sisters, cousins of the royal family. Unfortunately, Astrid, Felissa, and Sus are more interested in hunting and fishing than becoming princesses.
As Miri spends more time with the sisters, she realizes the king and queen's interest in them hides a long-buried secret. She must rely on her own strength and intelligence to unravel the mystery, protect the girls, complete her assignment, and finally make her way home.
Fans of Shannon Hale won't want to miss this gorgeously woven return to this best-selling, award-winning series.
Genres: Juvenile/Young Adult Fantasy
Publication Date: March 3, 2015
Pages: 336
Series: The Princess Academy (book 3)
My Rating: 4 stars
I received a free copy of this book in exchange for an honest review.
I grew up reading the first book in the Princess Academy series. It was one of my favorite books of all time. (And also back when the cover didn't look overly childish, but really captured the feel of the book...but it isn't the point of this review to whine about how much I don't like these new covers.) These sequels are not quite as good as the original tale, but they are still highly entertaining and fulll of magic; and I'll admit, I don't want this series to end.
The things that held me back from giving this book five stars are pretty minor, but they still bother me. First off, I hate how quarry speech had to be explained. It was one of those things that worked better when you didn't have an actual explanation. Like the force in Star Wars. We didn't need to be introduced to midichlorians. It was cooler when they didn't exist; the same goes for quarry speech in here.
Also, I may be in the minority on this one, but I didn't love what happened to Peder's personality in here. I loved him a lot in the first book, but I felt like the second and third contained a cheap imitation of the loveable boy that I grew to love in the original Princess Academy. I don't hate his character by any means, but I didn't feel as attached to him as I used to.
But, enough about the bad. This book has too many good things in it to spend to much time on the things I didn't. First off, the three girls we are introduced to in here are so cute. Astrid, Felissa, and Sus are really fun to read about. They have a nice sisterly bond, they can fend for themselves, and the way their relationship with Miri adapts and changes as the book progresses was really well written.
Plus, the culture of Lesser Alva was a lot different then what I had gotten used to in the previous books. It was more of a Bayou feel then a traditional fairytale setting; I may like the traditional fairytale setting more, but getting used to this atmosphere was still really fun.
I loved Miri, as always. She's independent, very smart, determined...I could go on and on and still would not completely list all the things that I love about her. Her teaching a princess academy of her own was so perfect, even if it was not a traditional princess academy.
I thought, though, that perhaps the confilict in this book was a little less intense than in the previous series? There was a lot of little things that they had to deal with, and later one big thing, but it never seemed to me like the issues were as pressing or thrilling as in the previous books.
The big reveal at the end of the story, though, made this book really 'wow'. I had not seen it coming in the slightest. It was emotional, shocking...it was a perfect plot twist. And the epilogue? Well, that would be an interesting spinoff series to say the least.
This is a series that I'll definitely miss. I've reread its pages multiple times, beat up my copy of the first installment until the spine isn't even readable anymore, and put it on my bookshelf of most adored books. I've loved every minute of
The Princess Academy
series, and I'm satisfied with the way it finished.
Bye, Princess Academy. I don't want you to end, but I think that the way you did end was quite perfect.