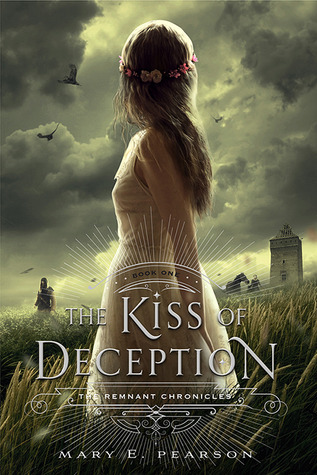 The Kiss of Deception
By Mary E. Pearson
Blurb:
A princess must find her place in a reborn world.

She flees on her wedding day.

She steals ancient documents from the Chancellor's secret collection.

She is pursued by bounty hunters sent by her own father.

She is Princess Lia, seventeen, First Daughter of the House of Morrighan.

The Kingdom of Morrighan is steeped in tradition and the stories of a bygone world, but some traditions Lia can't abide. Like having to marry someone she's never met to secure a political alliance.

Fed up and ready for a new life, Lia flees to a distant village on the morning of her wedding. She settles in among the common folk, intrigued when two mysterious and handsome strangers arrive—and unaware that one is the jilted prince and the other an assassin sent to kill her. Deceptions swirl and Lia finds herself on the brink of unlocking perilous secrets—secrets that may unravel her world—even as she feels herself falling in love.
Genres: Young Adult, Fantasy, Romance
Publication Date: July 8, 2014
Pages: 489
Series: The Remnant Chronicles (book 1)
My Rating: 4 stars


Looking back on this story, there are so many things that could have gone seriously wrong and ruined the whole story. It's fantasy, which has stood on shaky ground with me recently. There's a love triangle. It's in multiple POV, which can be hard to pull off. And yet, everything went smoothly and I actually loved that this was fantasy, multiple POV, and had a love triangle. Yes, everyone; I loved the love triangle.

Let's start out with Lia. A strong-willed, loyal, smart heroine that I seriously adored. I'm horrible at describing why I love characters usually, because there are so many tiny reasons why I love them that it's hard to decide how to summarize all of those, and that is the case with Lia, so bear with me while I try to describe her fabulousness. First, she's a princess. But she doesn't want to be a princess anymore because her arranged marriage is less than ideal and it's coming soon. So she runs away with her best friend Pauline (who, by the way, is such a darling little person, but I'll get to that later) At this point, I wasn't in love with her, because the decision was rash to say the least, but I understood it.

However, we get to see more of her personality later on when she's a barmaid. She is quickwitted, she sticks up for her friends, and while she's a bit impulsive, it's endearing rather than annoying. (Okay, sometimes it was borderline annoying, because you just knew it would end badly, but hey, most of the time it was fine.)

There's also Pauline. Pauline is soft-spoken, sweet, and she and Lia's relationship is basically the cutest. I love it. There is always so much focus in books in movies on romantic relationships, and friend relationships almost always are pushed to the side and seen as less important. But not with these two. Lia and Pauline's friendship is highlighted a lot in the story.

Now, for the two love interests. If you've read my reviews before, you'll know I'm a really picky romance reader. I usually don't like YA relationships. And when there's a love triangle, the thing really becomes hit-or-miss. However, this romance defied all the odds and actually didn't make me want to throw the book against the room. What's more odd, I liked both the love interest.

First, there's Kaden. Kaden was really boring in the beginning of the story, I'll admit. But he really grew on me later on, and against my wishes. He's an enigma; I don't really have the words to describe him. Still, there was something about him that I liked.

Rafe is probably my favorite of the two, though by the end I was unsure if that is still true or not. He's passionate and mysterious, but not in the typical bad-boy-YA way. Like Kaden, I really am having a hard time describing him.

The worldbuilding in this story was really great. The author managed to give as a wonderful atmospheric fantasy where I totally was immersed in the world without info-dumping or being overly mysterious on how the world worked.

At the beginning of the story, Kiss of Deception, while by no means a bad book, was one I could easily put down. I liked the characters and the writing, but the plot was more romance focused than anything else, and so everything happened kind of slowly. There wasn't anything to really glue me to the page. And then...the plot twist came, and the story was transformed into something amazing.

The twist that happened around page 300 shocked me so much that I read ten or so pages over again to make sure that what happened actually happened or if I had missed something big. I honestly cannot remember a book ever shocking me so greatly. I loved it.

After that, the book's tone got much less quaint little fantasy and blossomed into a truly thrilling story. Kiss of Deception became impossible to put down; we were introduced to a new cast of characters that were more dangerous than any of the previous ones, and there was betrayal and romantic tension that I honestly could not get enough of.

One tip I have for everyone is to read the passages that come before each chapter. They play a bigger part in the book than you would think, and not only that, they are actually kind of interesting, which I wasn't expecting.

The ending was perfect; it was a bearable cliffhanger, and the potential for a beyond-fantastic is totally there. I am so ready to get my hands on the next book; reading this before it came out was, in hindsight, a really bad idea.

I am recommending this. Even if fantasy is not your cup of tea (and for me recently, this has been true) I'd try Kiss of Deception because the writing is so superb that I think readers will love the world that is contained in this book anyway.