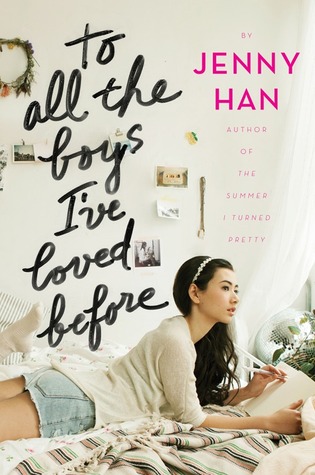 To All The Boys I've Loved Before
By Jenny Han
Blurb:
To All the Boys I've Loved Before is the story of Lara Jean, who has never openly admitted her crushes, but instead wrote each boy a letter about how she felt, sealed it, and hid it in a box under her bed. But one day Lara Jean discovers that somehow her secret box of letters has been mailed, causing all her crushes from her past to confront her about the letters: her first kiss, the boy from summer camp, even her sister's ex-boyfriend, Josh. As she learns to deal with her past loves face to face, Lara Jean discovers that something good may come out of these letters after all.
Genres: Young Adult Romance
Publication Date: April 15, 2014
Series: To All The Boys I've Loved Before (book 1)
After reading a few contemporary novels that I really liked, I decided to try out this one. It seems like this is one of the 'go-to' contemporaries as of right now, so I assumed I would love it. But I just...didn't. It was so hard to connect to Lara Jean. So very hard. And the story itself was not all that unique.
Lara Jean could have been twelve years old and I wouldn't have noticed a change in the narration. She just seems so...naive. This is coming from a girl who actually can relate a lot to Lara Jean in the fact that I've never really 'done' anything that is within the realm of teenage rebellion. So, it's not just the fact that she's the epitome of a good girl. It's just...she just comes off as slightly immature in the way she sees people, her crushes, her sisters, even.
Her narration made these letters seem so serious; at one point, they were compared to an 'exorcism' for her feelings. But honestly, these things are just silly love notes. And I mean silly. We get to read over some of these notes, and the girl wrote most of these in middle school--translation: they're supah cheesy. Lara Jean acts like these notes getting out to these guys is the end of the world, and while it's definitely embarrassing, it's not as big a deal as she makes it out to be.
And then there's the love triangle. Oh. my. goodness. I just couldn't take it seriously; you really expect me to think that your sister's ex-boyfriend is a viable love interest? Yeah, I'm sure that will work out great. Peter was funny, cute, and sweet, though not in the traditional romance novel way, and I just couldn't see why Josh even stayed on as a love interest.
Negatives aside, there was still some good in this book. I loved the relationship Lara Jean had with her sisters Margot and Kitty. It was so sweet, and so...sisterly. They fight. They bicker. But at the end of the day, they still love each other dearly, even if their relationship isn't perfect. It's one of the better depictions of sisters that I've came across in YA recently.
The plot, while overdramatic, could be sweet at times too. Like I said before, I liked Peter Kavinsky a lot. There are a lot of cute moments with him and Lara Jean, and the romance happened slowly, just the way I like it.
I definitely want to see how this relationship plays out in the next book, so I'll be reading it when it comes out, though maybe not right away. It may not be a perfect book, but I'll admit that despite all the things I found wrong with it, I enjoyed To All The Boys I've Loved Before, and I am hoping to see some character development in the sequel.