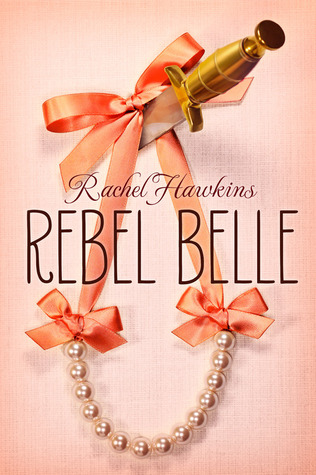 Rebel Belle
By Rachel Hawkins
Blurb:
Harper Price, peerless Southern belle, was born ready for a Homecoming tiara. But after a strange run-in at the dance imbues her with incredible abilities, Harper's destiny takes a turn for the seriously weird. She becomes a Paladin, one of an ancient line of guardians with agility, super strength and lethal fighting instincts.
Just when life can't get any more disastrously crazy, Harper finds out who she's charged to protect: David Stark, school reporter, subject of a mysterious prophecy and possibly Harper's least favorite person. But things get complicated when Harper starts falling for him—and discovers that David's own fate could very well be to destroy Earth.
With snappy banter, cotillion dresses, non-stop action and a touch of magic, this new young adult series from bestseller Rachel Hawkins is going to make y'all beg for more.
Genres: Young Adult Paranormal Romance
Publication Date: April 8, 2014
Series: Rebel Belle (book 1)
Pages: 345
My Rating: 3.5 stars
Confession time...I may or may not have gone into this thinking this was a historical fiction novel. Oops.
Initial disappointment aside, this was a really well done paranormal romance. Possibly one of the best I've read in a really long time; I usually hate this genre, but I gave this a try because hello, Rachel Hawkins? Instead of being a suck-fest, this was as cute as its cover. (AND I REALLY LIKE THE COVER GUYS I REALLY LIKE IT.)
Harper is an unexpected main character. She's so different from the typical Para MC and it's great; she's popular, super type A...and usually I would read those two qualities and think, crap, this is going to be a mean girl character, but no. Harper is actually super nice, which is a great change from the stereotype.
Then we have David. David I didn't like as much because how he was set up in the beginning and how he ended up being seemed a bit different to me. However, he was a likeable character...smart, funny, a bit sarcastic. He and Harper were perfectly suited for each other.
However, it seemed that at the beginnning David is as rude as can be. However, ten pages later, he mysteriously has a change of heart and becomes more "sarcastic and misunderstood" than the slap-worthy jackwagon at the beginning.
The paranormal stuff in this book is all so new to me; I've read one other book about paladins. It sucked butt and I ended up not finishing it, so for all intensive purposes we'll say this is a whole new concept to me. And I loved it! The background was fleshed out, the powers were so ninja-y (I promised myself I wouldn't use the word kickbutt to describe it. I've been using that word too much lately) and the plotline was very paladin-centric. Which may seem like a given to you, but this is paranormal romance we're talking about. Most paranormals go more like the MC and their partner sucking face and making heart eyes at each other and then in the end there's some battle that somehow the MC prepared for in between the kissing.
From the beginning, this book was action packed. Sometimes in a borderline-yuck way. I don't want to have to think about how Harper killed her attacker in the first couple chapters again, though it was definitely a new move I'd not read before, so that was nice. But there was also some Southern hospitality, with balls and dresses...it was very nice.
Normally I would classify this ending as a cliffhanger, but I've already read the second book's blurb so there goes that suspense. Grr. But it's not
this
book's fault, I suppose.
I was pleasantly surprised by this series! It is a fun series that I'll definitely be continuing.