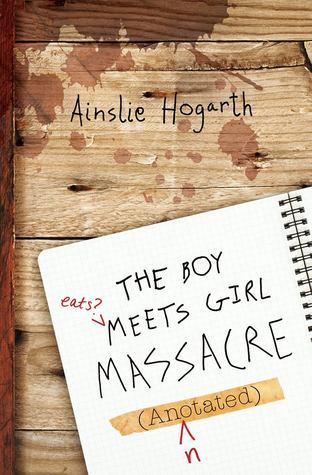 The Boy Meets Girl Massacre (Annotated)
By Ainslie Hogarth
Blurb:
Noelle takes a summer nightshift job at the infamous Boy Meets Girl Inn, even though she's well aware of the grisly murders that happened there decades ago. That's why she has a diary—to write down everything she experiences in case things go bump in the night. But the inexplicable freezing drafts, the migrating rotten-flesh smell, and the misplaced personal items don't really scare her. Noelle has bigger problems: her father's ailing health, her friend Alfred's inappropriate crush, and the sore spot on the back of her head that keeps getting worse.
When a party commemorating the anniversary of the original killings ends in a ghoulish bloodbath, Noelle's diary becomes the key piece of evidence for investigators. But the cryptic and often incoherent entries suggest there is more to the bizarre case than can be rationally explained...
Genres: Young Adult, Mystery, Horror
Publication Date: September 8, 2015
I received a free copy of this book in exchange for an honest review.
I'll get it out of the way right now, instead of tiptoeing around the fact throughout the review; I did not like this book. In the slightest. Many parts disgusted me; so did the main character. However, maybe other people will like it; if you are not deterred by extremely gruesome details, that is. And a main character that is just not a likeable person at all.
Let's start with Noelle, because that's the shorter complaint. She's a beyotch. Plain and simple. She's a beyotch to her friend. Simply because he likes her; so what's the natural reaction to that? Taunt him until he can't stand you so much that the crush goes away. Excellent deduction, Noelle! < /sarcasm>.
She's a beyotch to her dad. Who, by the way, is absolutely disgusting. He refers to his diarrhea as burning at one point. I get that he has medical issues (kind of, but that's a spoiler) but DEAR GOD NO.
Anyway....she's really, really rude to him. She says she hates him, that she wants him to die. That is just an awful thing to say, especially about her father, who obviously loves her--even though he is definitely gross.
She also likes to pick at her head, and the descriptions she has for what occurs to it are absolutely disgusting. You know what I discovered about myself while reading this book? That when a person describes their head wound as salsa a small part of me shrivels up and dies.
This book is extremely graphic and gross. The very backstory is disgusting; there's cannibalism and rotting bodies and abductions and it's enough to make me want to barf. The descriptions are what really makes it horrible; perhaps if everything had been a little less vividly described I would not have had such a stomach ache while reading the story, but that didn't happen, and I felt like I constantly needed to go to some gore-less happy place while reading.
But it gets worse. Oh, so very worse. Mostly because of the animal cruelty. (Though I will admit, I could never tell if it actually happened or Noelle was just going crazy and
thought
it happened. Either way, it was very disturbing to read.) The spoiler is both well, a spoiler, and a rant. So beware.
(Spoiler) A FRICKING KITTY GETS HURT. YOU DON'T HURT KITTIES. ESPECIALLY THIS CUTE LITTLE CAT. IT DIDN'T DESERVE TO GET HURT, THE CATS WERE THE ONE THING ABOUT THIS BOOK I KINDA LIKED. (End of spoiler)
This may be my least favorite book I've read all year. In fact, there is not a 'may be' about it, it really is. I didn't like it whatsoever, and I was glad when I had finished.