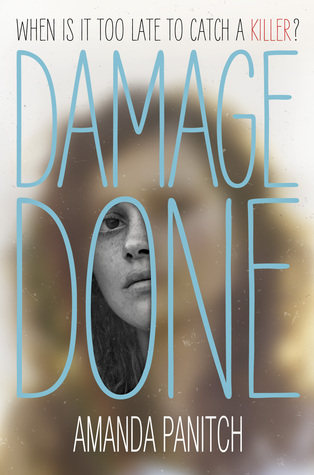 Damage Done
By Amanda Panitch
Blurb:
22 minutes separate Julia Vann's before and after.
Before: Julia had a twin brother, a boyfriend, and a best friend.
After: She has a new identity, a new hometown, and memories of those twenty-two minutes that refuse to come into focus. At least, that's what she tells the police.
Now that she's Lucy Black, she's able to begin again. She's even getting used to the empty bedroom where her brother should be. And her fresh start has attracted the attention of one of the hottest guys in school, a boy who will do anything to protect her. But when someone much more dangerous also takes notice, Lucy's forced to confront the dark secrets she thought were safely left behind.
One thing is clear: The damage done can never be erased. It's only just beginning. . . .
Genres: Young Adult Thriller, Mystery
Publication Date: June 21, 2015
I was so in shock as I finished Damage Done. It's one of those books where the ending is BY FAR the best trait of the whole book, taking the thing to a whole new level of awesomeness. I was quite sure going through the story that it would earn a solid four stars from me, but the ending was just so mindblowing that I had to bump it up.
The problem with this review is that as much as I want to rave about the ending and all the literary
questions
that I took from it, that would be a spoiler filled review. And that, my dear friends, is something that I refuse to do. So I really can't give away as much as I want to, and therefore, I advise you, even if this review hasn't quite convinced you that Damage Done is worth your time (IT SO IS) just to put doubts aside and read it. Though I should say, only if you are okay with more mature themes (however, I mean, this book is about the aftermath of a school shooting, so chances are if you can handle that you'll be all right.)
This is the story of a girl, Julia, whose twin brother Ryan, who she was very close with, killed her best friend, her boyfriend, and others in a school shooting. And, I loved Julia as a character. There is something so relatable and understandable about her through the course of the book; though at times that scared me. She expresses love and disgust simultaneously throughout the story, and it just makes you wonder how you would feel if you were in this situation.
Julia's friend Alane was so sweet and understanding; I loved how there she always was for Julia, even when other people weren't. And I also liked Julia's love interest, Michael. He was more supporting and caring then he should have been.
Julia having to deal with being the media's scapegoat is heartbreaking was hard for me to read about. It would suck so much, I thought, to have to deal with your brother doing this and then not getting sympathy at all when you were the victim too. And then, when everything began to go bad again, I was just so sympathetic with Julia. This girl did not get a break.
But the ending. The ending is still the best thing, by far, this book has to offer. The sympathy I felt for Julia, and the questions surrounding the shooting…this ending trumps everything. And it's just mindblowing and really, really shocking.
The story also has psychology reports mixed in that tell the story of young Julia and Ryan. They're important; not only do they show key parts of Julia and Ryan's relationships, there are also small hints about the ending that I didn't even recognize as hints until everything came together. Everything just fits so perfectly together in this book.
I am in love with this book. It's everything I look for in a mystery/suspense novel, and I am a bit suspicious that the awesomeness of this novel is why I've been obsessively getting more mysteries lately. It really is a wonderful book.