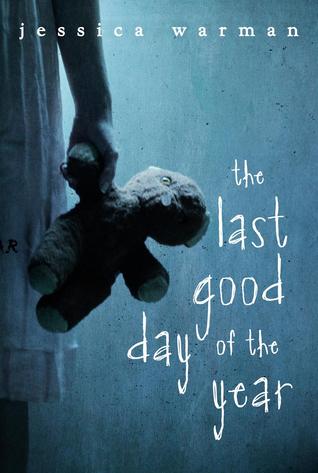 The Last Good Day of the Year
By Jessica Warman
Blurb:
A new powerful thriller from the globally-embraced author of Between.

Ten years ago, in the early hours of New Year's Day, seven-year-old Samantha and her next door neighbor, Remy, watched as a man broke into Sam's home and took her younger sister, Turtle, from her sleeping bag. Remy and Sam, too afraid to intervene at the time, later identified the man as Sam's sister Gretchen's much older ex-boyfriend, Steven, who was sent to prison for Turtle's murder.

Now, Sam's shattered family is returning to her childhood home in an effort to heal. As long-buried memories begin to surface, Sam wonders if she and Remy accurately registered everything they saw. The more they re-examine the events of that fateful night, the more questions they discover about what really happened to Turtle.

Master storyteller Jessica Warman keeps readers guessing in this arresting page-turner.
Genres: Young Adult Thriller, Mystery
Publication Date: May 19, 2015
Pages: 278
Series: N/A
My Rating: 4.5 stars
I received a free copy of this book in exchange for an honest review.

Wow. This is by far, one of the most realistic, emotional 'thrillers' I've ever read. It's much more just simply a tragic story then an actual thriller, though the mystery is definitely intriguing. This is all over just simply a good book.

This tells the story of the aftermath of a child abduction. Not the immediate aftermath, but the long-term, ten years ago aftermath, which really isn't focused on as much in many books dealing with the topic (in my opinion). Sam's sister Turtle was stolen on New Year's, never to be found. This is the story of how the family learns to cope, just as much as figuring out what really happened that night.

And let me tell you, it's emotional. My throat was so sore after reading this because I had such a big lump in it nearly the whole time. I'm actually kind of tearing up just thinking about it, because I could not imagine this happening to one of my siblings. I would just die. It's really realistically portrayed, which means it is sometimes difficult to read.

This family is definitely still grieving, though there are times when it is not as apparent. What's worse, Sam is beginning to question what happened that night, and the answers she's getting aren't what she would want. This mystery was So. Good. I was on the edge of my seat; the empathy I felt for these characters only amplified my desire to figure out what actually happened. It's wild, guys. I did not see it coming at all. There were about five trillion plot twists near the end, and my eyes just got wider and wider with each one.

My favorite part of the book was the discussion between Sam and Noah about their sisters. It's so shocking and not what you ever really would expect when reading about abduction, but that's what I love about it. It's so raw and authentic.

Let me tell you, this ending is just...I love it, but it's so freaking CRUEL, because it begs for a sequel that I'm not sure is coming. I have a feeling this book will just be one of those horrifyingly awful yet wonderful cliffhangers, torturing me with its desire to get resolved. Seriously. A bomb got dropped on me and then the book literally ended. Not one more sentence. Not one more word. I was so pissed.

This book was great. It blended emotion with mystery perfectly to make this beautiful book, one where I have never nor probably will ever read something like it.